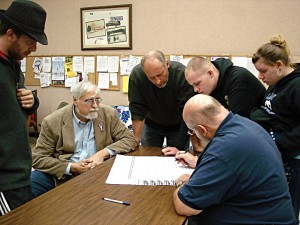 Mamakating Democrats faced total defeat Tuesday night, when their incumbent town supervisor Bob Fiore lost his re-election bid to Bloomingburg fire commissioner Harold Baird.
Also swept into office were council candidates Regina Saunders and John Moul.
Saunders, a former town councilperson who lost two years ago to Teddy Brebbia, narrowly beat Ron Weathers this time around.
Superintendent of Highways Richard Johnson beat Democratic challenger Buddy Platt.
Republicans won the sheriff and district attorney seats on the county level, while town judge Marcelle Matthews ran virtually unopposed.
View map of town election districts here: http://co.sullivan.ny.us/documentView.asp?docid=54
View 2009 election results here: http://webapps.scgnet.us/electionreportingv2/default.aspx?eID=7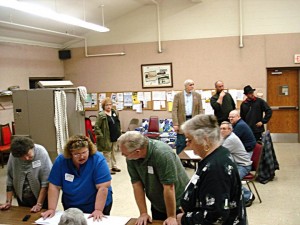 Interesting facts about the 2009 Mamakating general election:
Supervisor Bob Fiore lost in his home district # 4 (Westbrookville) — 153 to 191 — or about 11%.

Ron Weathers lost to Regina Saunders by only 27 votes. Had Weathers gotten the Working Families line instead of Nathan Berg, he'd have been elected.

Ron Weathers' impressive results happened in spite of his being a last-minute replacement candidate.

The Conservative Party line put Republican candidates ahead of their Democratic opposition — by a strong margin — in most districts. Saunders, however, got no Conservative votes in district #7 (Burlingham).

The Republicans took a gamble by ousting both their incumbent council members from the ballot: Judith Young & Nick Salomone.

Judy Young tried to run for judge as Republican, but was passed over for incumbent Marcelle Matthews. Young wound up on the Working Families line, which is unusual for a former Republican committee chairperson.

Marcelle Matthews was cross-endorsed by most major parties, except for Young's WF line. Nevertheless, some Democrats suspect Matthews of impropriety for allegedly working on other candidate's campaigns in violation of judicial ethics.

Democratic district attorney candidate Glenn Kroll lost within his home town of Mamakating, 35% to 65% — despite a widespread advertising campaign and high-profile gimmicks. County-wide, Kroll's results were even worse: 30% to 70%.

For the Hwy. Supt. race, Riley Buddy Platt lost to Richard Johnson by 159 votes, out of 2,371 tallied — about 6%. Platt received 111 votes on the Working Families line; Johnson received 308 votes on the Conservative line. If Platt had received Independence Party endorsement, he'd have come within a few points of winning.

Fisticuffs broke out at Danny's restaurant in Wurtsboro on election night, between a Republican candidate, a Republican committeeman, and a Democratic poll watcher, resulting in a call to the Sheriff.

As a result, Danny's was almost deserted of politicos after the polls closed. Democrats congregated at the law offices of Gary Greenwald; while Republicans gathered at the home of Harold Baird.

Democrats left for the evening not knowing the actual tally, because they did not have numbers for district #7. Nobody thought to check the county BOE website for posted returns.

A major weak spot in Democratic poll-watching was district #6 (Bloomingburg), home to Saunders & Baird.

Republicans Bob Justus visited Greewald's office, offering well wishes to the opposition. Justus declined to officially declare any winners Tuesday evening.

About a hundred more people voted in Mamakating's 2009 local election, than did two years ago in 2007.

Teddy Brebbia will be the only Democratic councilman remaining on the Mamakating town board in 2010. Yet, unlike his running mates, Brebbia's campaigns are marked by a high level of personal autonomy from the Democratic party. He's up for re-election in 2011.