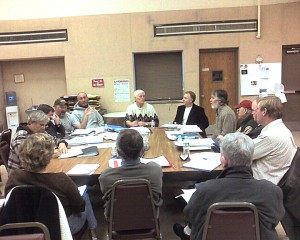 The new master plan review committee met Wednesday night (Nov. 12, 2008) in Mamakating town hall. It consists of the original members from 2005, plus several more new additions, making a total of fifteen members.
Tonight's agenda was a "meet & greet." Each member introduced himself, and provided a little bit of personal background. Town supervisor Bob Fiore and councilman Teddy Brebbia were on hand to offer their assistance to the committee. Fiore expressed optimism with the new committee.
Members requested materials from the town, such as copies of the existing zoning law, maps, and similar materials. The next meeting will take place on Thursday, Nov. 20th at 7pm, in the town hall senior meeting room. These sessions are open to the public, but actual participation is limited to the committee members.
List of Members, appointed at Oct. 7th town board meeting (asterix denotes 2005 participants):
William Trimble (chairman), Alan Sorensen ( * ), Andy Weil ( * ), Richard Pavlica, Lyman Holmes ( * ), Harold Baird, Fred Harding, Alex Goodman ( * ), Regina Saunders, Sean Moriarty Jr., John Salin, John Malmgreen, Scott Buckholts, Mark Schulman ( * ).
Update: At the Nov. 20th meeting, Alan Sorensen, the planning consultant was there, but Mark Schulman was absent. Coundilman Teddy Brebbia sat in, with Carol & Ron Weathers of Mountain Road watching from the peanut gallery, along with councilman Bob Justus. Supervisor Bob Fiore was not present.
Justus provided the committee with a list of issues the town board wished them to consider. "Priorities due to possible time constraints: seasonal home conversions (180 day moratorium may be imposed); park land swap (the Duane Roe proposal for Wurtsboro, pros & cons); purchase of Wurtsboro Hills lake and adjacent land as possible future park, pros & cons; 199.36c housing densities / soil calculations; Other Issues: steep slopes law; increased ratables / commercial development; overlay zones for commercial development; local law #3 - storm water drainage; impact fees; I-86 exit development; sight distance requirements on roadways; coordination & integration of "Good Growth Practices" with village gov'ts to promote Main Street health & vitality, creating "win-win" situation for town & village residents.
Heather Jacksy from Sullivan Co. Planning will be giving a training seminar on Thursday, Dec. 18 @ 7pm on "Best Practices for Main Street Development & Coordination of Service Between Village & Town Gov'ts.
Most of the committee's discussion on Nov. 20th centered around Wurtsboro Hills. Regarding separation distances of wells & septic, current town code allows a waiver by the building inspector. Brebbia noted this loophole violates state law, and needs to be stricken from the local zoning. General consensus is that the 'Hills need their water district restored, town still owns the old wells and land with storage tanks. There are around 800 homes in Wurtsboro Hills, mostly converted bungalows. Also discussed were Local Law #3 (drainage) and the steep slope law of 2000. New zoning needs to strike a balance between environment and developers. Next meeting of the committee will be held Thursday, Dec. 4th, at 7pm.
Update: Dec. 4, 2008 meeting. Committee met to primarily discuss seasonal dwellings. The moratorium was passed by the town board two days earlier at the Dec. 2 business meeting, preventing upgrades to year-round dwellings for six months. The master plan review committee is expected to draft recommendations for the town board to use in revising the town zoning.
The only observers from the peanut gallery on Dec. 4th were Dr. Bob Justus and the Mamakating Messenger. One other person from the Ellenville Journal showed up — inappropriately recording, talking out of turn, and blocking the view of others. The room reeked from rancid bleach used to mop the floor. A half hour into the meeting, all three observers departed to watch a public hearing at the Wurtsboro planning board.
Read the 2005 "Discussion Paper" of the Master Plan Review Committee [Acrobat PDF, 8.5MB]: http://www.midhudson.info/documents/masterplanreview2005.pdf
Where they left off in 2005:
In June, 2005, Andrew Weil requested that the following letter that he submitted be
admitted into the minutes.

http://www.mamakating.org/tgov/towngov/agendasminutes/06212005tbminutes.htm

June 14, 2005

Hon. Charles Penna, Supervisor
Town Council Members

Town of Mamakating
2948 Route 209
Wurtsboro, New York 12790

Re: Recommendation from Master Plan Review Committee

Dear Supervisor Penna and Council Members:

The Master Plan Review Committee has met regularly over the past several
months to review the Town's 2001 Comprehensive Master Plan, and to develop
recommendations for revisions for the Town Board to consider. Part of our
mission, as we understand it, is to identify areas where the Town can
accommodate commercial/industrial businesses, in a manner that does not
harm our natural environment. We began this analysis by looking at
existing zoning districts for commercial and industrial uses to assess the
appropriateness of these areas for such development. We also took the
additional step of identifying areas – that while not currently zoned for
such activities – might be compatible with commercial/industrial uses. We
have already identified such sites.

We have also identified several areas where the existing land uses are
incompatible with new zoning districts adopted in 2001, for example, the
TC – Town Center District north of Wurtsboro on 209 in which almost all
existing land uses are residential. The TC District allows gas stations,
auto repair shops, retail, banks, etc. In Phillipsport, the Homowack
Resort is zoned Hamlet Center. Our feeling is that it should be zoned
Planned Resort Office. In Phillipsport, Dick's Sand & Gravel and Metro
Gravel are now non-conforming uses in the Hamlet Center District. Perhaps
they should be zoned Industrial Office along with the new Tetz mine on
Route 209.

Our conclusion to date, is that there should be changes in the zoning
district boundaries in order to create real opportunities for economic
growth in areas where such uses will have the least impact on the
environment. The Hamlet Center district is far too expansive and should be
reduced in geographic area to around the hamlets of Summitville and
Phillipsport. We also feel that the Town should move forward to adopt
design review guidelines consistent with the Comprehensive Master Plan
recommendations to ensure that new development compliments the character
of the Town. Assessing how all these revisions should be made will take
additional time.

The pending development of the Yukiguni Maitake facility and various plans
announced to convert the airport to warehousing or a fly-in community
could have long-lasting adverse impacts on the character of our community.
These are major issues that must be considered in the context of the
existing Comprehensive Master Plan and the process we are undertaking to
update that Plan. The 2001 Comprehensive Master Plan noted that residents
rated large-scale residential and nonresidential uses as Highly
Inappropriate.

The Plan goes on to note that the Town should develop design guidelines
that "describe the physical environment that the community is trying to
preserve." These guidelines have yet to be established and the proposed
developments noted above are examples of development that the community
noted were highly inappropriate. If developed, the character of our
community will change forever.

With all of the issues we have outlined above, we respectfully ask that
the Town Board implement a building moratorium for a period of no less
than six months to give us sufficient time to make revisions to the
Comprehensive Master Plan and to adopt the necessary land use regulations
necessary to protect our community's character. If we allow large-scale
development that is inconsistent with the goals of the Comprehensive
Master Plan to move forward we will have lost an opportunity to enhance
our quality of life and to preserve it for future generations. A
short-term delay in development today could lead to long-term and
sustainable development in our Town that fits the character of our
community. Your support of our request would be greatly appreciated.

Sincerely,

Andy Weil, Master Plan Review Committee Chair;
On behalf of Master Plan Committee Members:
Lyman Holmes,
Alex Goodman,
Mark Schulman, 

Note: Sean Moriarty, Jr. did not concur with the recommendation

cc: Alan Sorensen, Town Planner/Advisor to Master Plan Review Committee;
George Schuler, Master Plan Review Committee Consultant;
Dr. William Pammer, Sullivan County Planning Commissioner